July

6-7 June: work meeting with Yin Yin Wong and installation prints RA Walden

9 July: Installation intervention Karen Vantvelt



Yin Yin Wong & Falke Pisano, publishing structure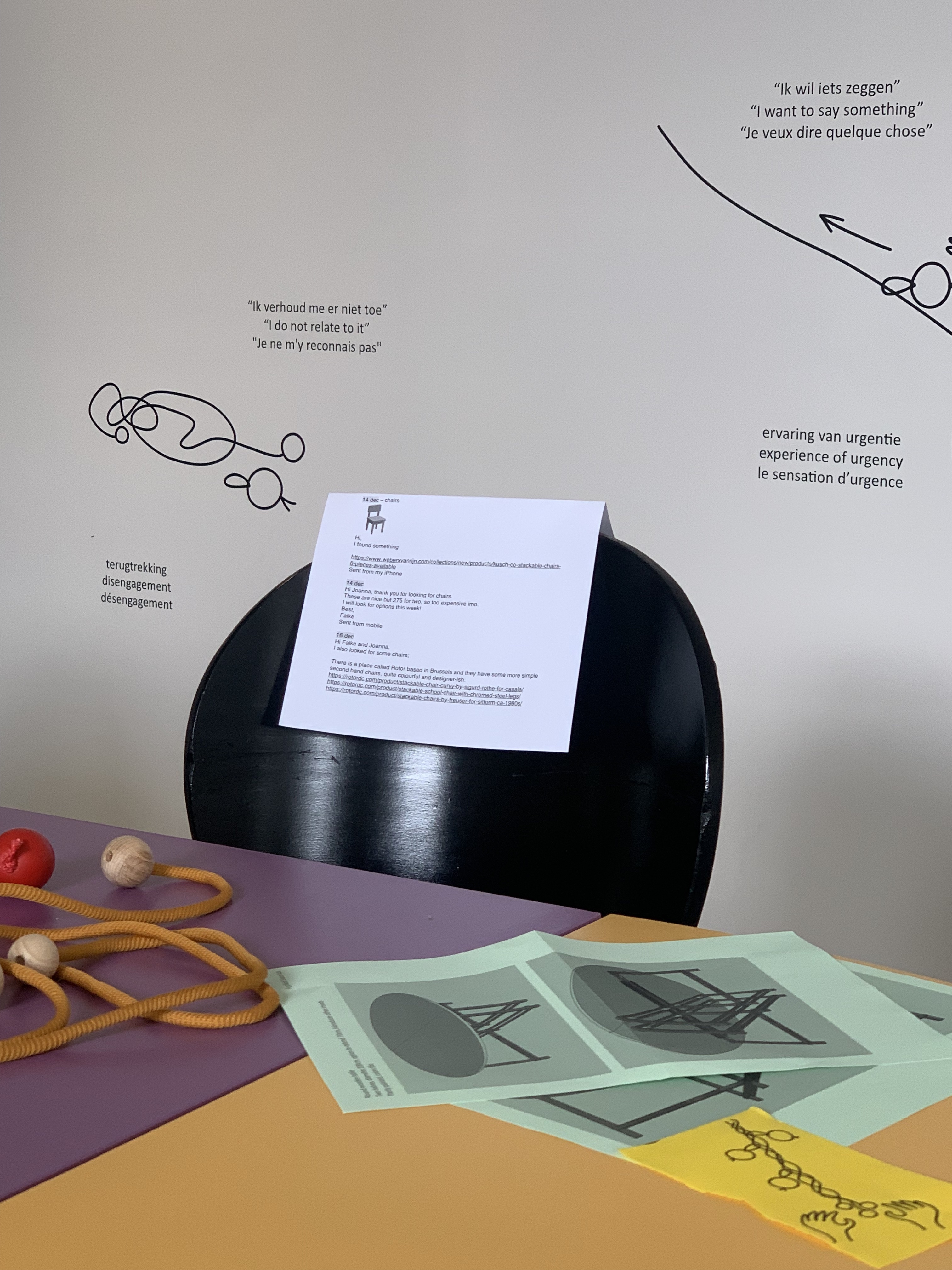 Artist, designer and publisher
Yin Yin Wong
and I have begun collaborating on a publishing methodology, which after summer will gain some form in the space, to open up the research, the different processes and conversations that currently take place in an accessible way. This will lead to a production process or structure for the publishing of different voices and kinds of texts, throughout the second part of the year. We will share some insights into the complexities of publishing during a public event in September, together with the artist Riet Wijnen (with whom I am currently developing a children's book based on the International Wages for Housework Campain, a grassroots women's network campaigning for recognition and payment for all caring work).
As an artist, designer and researcher
Yin Yin Wong
deals with questions surrounding ownership, agency, circulation and dissemination of visual culture in relation to the public space and public sphere. Interested in graphic design's potential to be distributed widely; beyond museum walls, into public space, or even into homes, Wong challenges specific models or paradigms that operate on modes of exclusion within the arts and the distribution of (visual) culture and practices this through site specific installation, (social) sculpture, public intervention and publishing.
RA Walden, ẍây ithřa, 2021
The artist RA Walden presents a new language: ẍây ithřa. The project was initiated in response to the restrictive nature of the English language. Formulated over a period of months in close collaboration with the linguist Margaret Ransdell Green, ẍây ithřa consists of a 300+ word lexicon, complete with morphosyntax, phonology, and an ever-growing set of idioms. Drawing on the rich histories of queering lexicon, from argots and cants, to anti-languages and the use of constructed language within Sci-Fi and speculative fiction, Walden seeks to bring fluidity, ease and 'access intimacy' to those in sick, disabled and trans bodies. The artist uses world-building, not as a visionary tool for an imagined future, but as an embodied methodology for the 'now'. As part of Superhost, we present prints and a workshop in the form of a podcast explaining the principles of the language ẍây ithřa.
I encountered this work at Kunstinstituut Melly in Rotterdam in summer 2021. It was commissioned as part of 84 Steps. The work and events within
84 STEPS
give special attention to the relation between physical and mental architectures, as much as with interpretations of personal and social health. I felt it was crucial to include this work in a project that aims at investigating the consequences of the current organization of labour and value production within the art institutional field.
RA Walden
's techniques span text, sculpture, printed matter, performance and video, all of which is undertaken with a socially engaged and research-led working methodology. Walden's works question contemporary Western society's relationship with care, tenderness and fragility in relation to our bodies, our communities and our failing ecosystems. They explore these issues through the lenses of crip theory, queer theory, sci-fi, speculative fiction and disobedient archives. Recent work has sought to disturb overly simplistic understandings of the disabled body, looking to bring an ethic of care, a connection between the land and the body, and a cripped concept of performance into conversation with the work.
One of RA Walden's prints with a caption that refers back to Katja Mater's
Time is an Arrow, Error
series. Three small series of clockalikes selected by association and affection where present in the spaces from February to May.
Karen Vantvelt – (s)he –, wat dragen we hier binnen? (what are we carrying/wearing in here?), 2022

Karen Vantvelt – (s)he –
has added an intervention in response to the blue modular gate that I installed between the two spaces on the 6th floor. wat dragen we hier binnen? (What are we carrying/wearing in here?) consists of the artist's clothes and other silkscreened textiles squeezed between the wall and the entrance-gate. In her work with clothes, textiles and performance Vantvelt searches for ways to communicate about complex and difficult experiences and feelings within shame and shyness. The collaboration stems from our conversations about the interaction between trauma and institutions and the experience of working and studying at the threshold of art (educational) institutions, in continuous negotiation with the existing institutional practices.
(s)he
(s)he lives inside
(s)he lives
(s)he lives a life
alive
her head is gone
her words are found
(s)he becomes
(s)he extended her legs towards the walls , and her fingers into an emotional layer of a hidden body . the body is stuck . you can call her he , but (s)he has breasts , doesn't like bread and grew up in the West . Belgium rooted , but (s)he is not rooted , could not escape , but tries to . needs some help but isn't helpless . (s)he cares without knowing , (s)he lives without growing . (s)he is made from clay . not found at an archeological sound , but sounds like the digital world behind . ( words . )
cries ( sometimes ) hides ( sometimes ) but mostly hangs around smiling .
(s)he is . (s)he is alive . but does (s)he know where (s)he is right now ?